Review Site Monitoring & Notification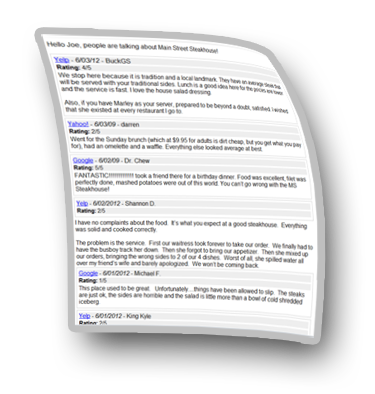 With so many review sites available online, it is difficult to keep track of what customers are saying about your business. eRepMailer tracks the most popular sites and sends you email alerts when new reviews are posted.
eRepMailer also provides you with links to the reviews so you can respond immediately. This will show your customers that you care, making you stand out from your competition and protecting your reputation.
Key Features:
Monitors your listings with Yelp, Google and Yahoo
Receive daily or weekly summaries of any posted reviews
Only receive emails on days/weeks when reviews are written
Includes links to reviews so you can respond immediately
Emails can be sent to multiple email addresses